Zbigniew Kwater - founder and former CEO of SoftNet.
A patron of his beloved Cracow, a traveler, a member of the Cracow Kurkowe Brotherhood - King the Brotherhood A.D. 2016 (a patron organization of Cracow). A man equally enchanted with world culture and arts, heritage, and with the beauty of nature, with all of its diversity of flora and fauna. A figure of extraordinary personal traits combining a cool headed mind of an engineer and a sensitive soul of a humanist.
A 1981 graduate of Electrical Engineering, Automation and Electronics University of Science and Technology in Krakow, majoring in Computer Science with a specialization in construction and programming of mathematical computing machines.
His first job began in 1981 at the data center of Sendzimir Steelworks as a programmer in the department of administrative and economic systems. In the following years he worked as a team leader for programming at NPER in Krakow, as a vice president of BIW CONCEPT, and then from 1991 to 2012 he was president of SoftNet.
During his career he directly supervised dozens of major projects for cooperative banks and managed a very large team of employees. He was awarded many honors by the National Association of Cooperative Banks and the National Cooperative Council.
In 2004 he won an individual prize in the competition EUROLIDER for establishing Polish companies to the modern standards of the European Union for commercial enterprises.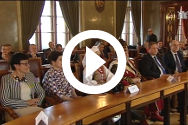 In 2014 for his actions in protecting the historic monuments, he was honored with his wife Danuta, the extremely prestigious title of Patron of Culture in Krakow Year 2013.
After more than 20 years of work as the President of SoftNet, he currently has a consulting business exclusively aimed at organizing and consulting of IT projects.